Ensure Industry - Grade

Security from Cyber Threats
Your domain name reflects your online brand identity, and a cybersecurity breach that has occurred in more than half of SMEs may jeopardize your carefully cultivated online visibility!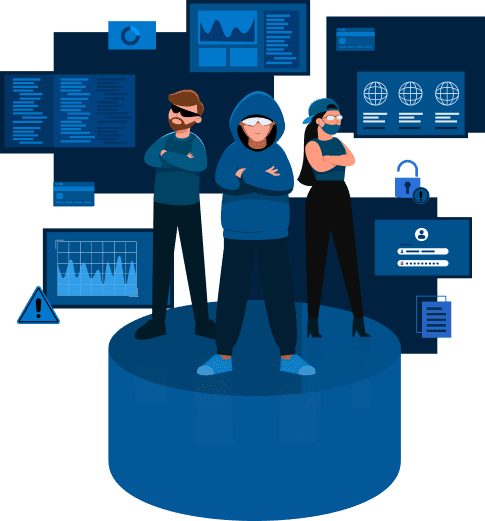 Avail EdgeDefence's Fully Managed DNS Security Solutions

Manage cloud apps without worrying about high costs and complexity.

Leverage our Integrated solutions to safeguard IT teams, users, and infrastructure - both online and offline.

Unleash the power of our advanced defence mechanisms against the most cutting-edge threats to DNS traffic
Opt from EdgeDefence's superior Defence Solutions that Adapt to Dynamic Business Requirements
DNS-layer protection
EdgeDefence provides a trustworthy layer of security that may be used to find compromised systems and secure ports before a breach happens.
Firewalls
By blocking unauthorized IP addresses and ports and enforcing network traffic regulations, firewalls guard and direct web traffic across all environments. And, we, EdgeDefence, offer a complete solution to utilize its potential.
Secure web getaways
To prevent malicious domains and cloud applications from operating while interfering with functionality and performance, constantly analyze and manage network traffic with our dedicated solution.
Predictive threat protection
To shield your employees and equipment against a potential DNS-based threat, find patterns for the most popular malware, domains, and networks to adopt the best possible predictive threat protection.
Highly secure SD-WAN
Utilize the power of an advanced SD-WAN integration that allows Secure SD-WAN Monitor VPN to send data across the network. It is a practical way to safeguard people and equipment while enhancing network efficiency, speed, and security and EdgeDefence offers a completely managed solution that needs you to do nothing!
Cloud-access security broker (CASB)
The CASB monitors user activity, alerts users to potentially dangerous actions, enforces security guidelines, and guards against malware as it sits between cloud users and apps. We ensure its tailored solution is the best fit to meet your business security goals.
Avail an Enterprise-Grade DNS Security Solution: Future-Proof Your Business from Every Possible DNS Threat
Make sure that your online brand identity is never misused or stolen in order to maintain it. EdgeDefense's competitive DNS security solution protects your business from intrusions like malware, phishing, viruses, and ransomware in their early stages, ensuring that real-time operations are never interrupted. Receive stronger, safer online protection with increased visibility with EdgeDefence's trustworthy layer of security - Take Action Now before It's too Late!
The Top Competitive Advantages offered by EdgeDefence
Impenetrable security
Prior to the attack, our personnel and systems successfully identify risks and stop unwanted behavior to implement an additional layer of protection for your business.
Simplified approach
We provide simple, seamless solutions supported by service-level agreements. It is quick and inexpensive since application programming interface integration is simple irrespective of the complexity of the security requirements.
High scalability
Our highly scalable tailored DNS security solutions include improvement sessions and regular updates to protect your business from diverse evolving DNS threats.