Protect your business 

from outside attacks 
More than a moniker, your domain name expresses your online brand identity. Yet half of SMEs have experienced a cybersecurity breach, which can compromise your curated online presence.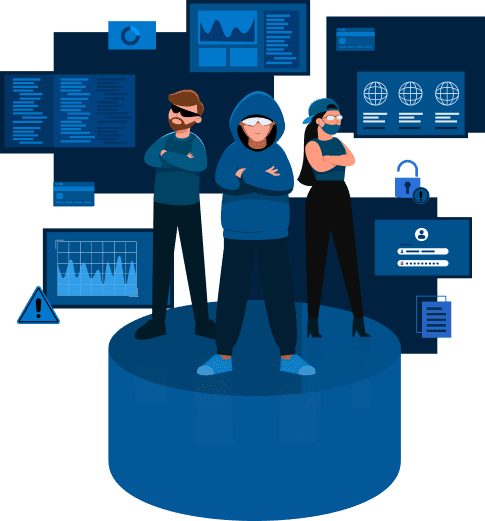 EdgeDefence delivers trusted breach protection

Manage cloud apps without worrying about high costs and complexity.

Powerful mitigation for the most sophisticated threats against DNS traffic.

Integrated solutions that protect IT infrastructure, teams and users on and off the network.
Superior protection that scales with evolving needs
DNS-layer security
Detect compromised systems and secure ports before a breach occurs with EdgeDefence's reliable layer of protection.
Secure web getaways
Continually inspect and control network traffic to block malicious domains and cloud applications without interrupting functionality and performance.
Firewalls
Guard and guide web traffic across all environments by blocking unwanted IP and ports and enforcing network traffic policies.
Cloud-access security broker (CASB)
Sitting between cloud users and applications, CASB monitors user activity, warns about potentially hazardous actions, enforces security policies and prevents malware.
Secure SD-WAN
Monitor VPN transports across the network with advanced SD-WAN integration. It's a cost-effective solution to protect users and devices, and improve network speed, security and efficiency.
Predictive threat intelligence
Locating patterns for the most common malware, domains and networks to protect your teams and devices from a future DNS-based attack.
Future-proof your business with DNS security
Keep your online brand identity intact by making sure it's never stolen or abused. DNS security mitigates cyberattacks, like malware, phishing, viruses and ransomware in the early stages, so you never see an interruption in real-time operations. EdgeDefence 's reliable layer of security ensures you experience better, safer online protection with greater visibility.
The EdgeDefence difference
Security
Our teams and systems successfully detect threats and block unauthorized activity before the attack.
Simplicity
We offer seamless and straightforward solutions backed by service-level agreements. Easy application programming interface integration makes the process cost-effective and speedy.
Scalability
As threats develop, so do we. We conduct improvement sessions and continually update our services to ensure we provide the most comprehensive DNS security solutions.